Manage GitHub.com hosted WordPress plugin, theme, & block installations and updates thanks to Entrepôt. Enjoy this alternative way to expose free and public repositories inside WordPress powered Sites' Administration.
I am a user.
Welcome! All you have to do is to download and install the Entrepôt plugin in order to list the registered Theme or Plugin repositories from the Entrepôt tab of the corresponding Administration screens.
Plugin repositories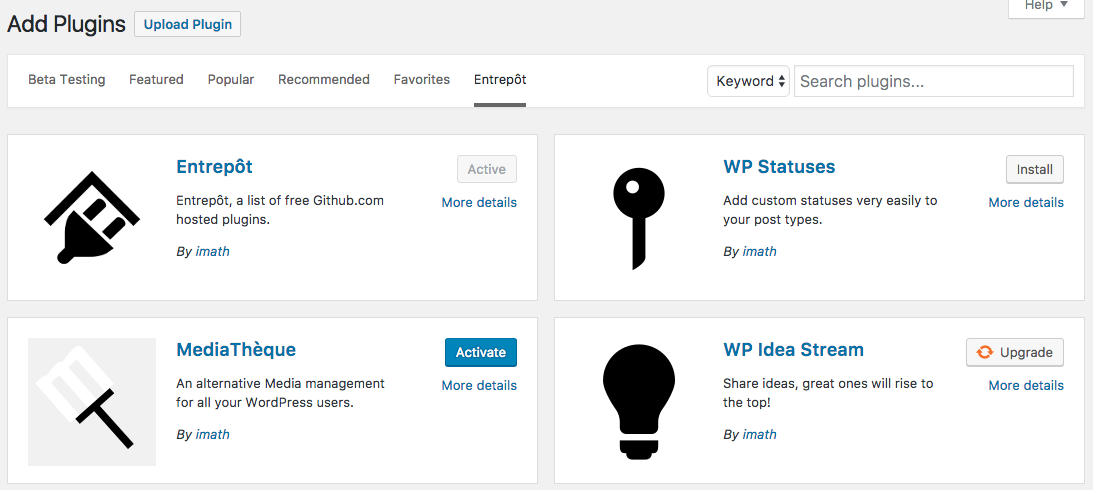 A user guide is available on the Entrepôt GitHub repository to help you find its tab into your "Add Plugins" Administration screen.
Theme repositories
Read more about the available ways to browse, install, activate and upgrade the registered Themes of the Entrepôt.
Block repositories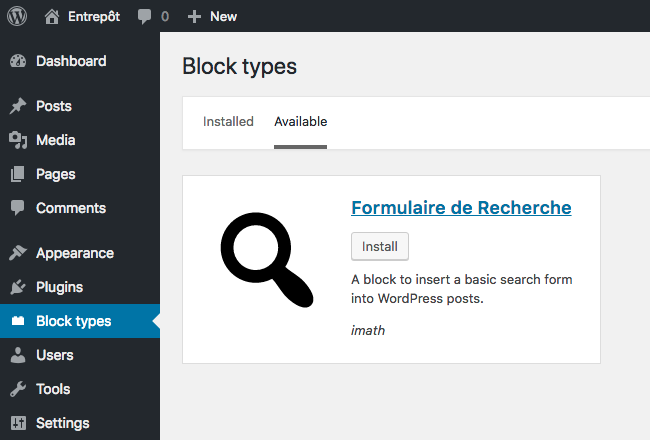 From the « Block types » menu of your WordPress Dashboard, the « Available » tab will let you install new block types and the « Installed » will let you manage their activation/deactivation and upgrades.
Requiert WordPress 5.0
635 téléchargements
I am a plugin author.
You are very welcome too! If, like me, you do not host (anymore) your plugins on the "WordPress.org Directory" but still want to ease your users lives when installing and upgrading your free and public GitHub hosted plugins: add them to the Entrepôt! Read this documentation and submit your "Pull Requests" to give even more choices to users.
I am a theme author
You can join the Entrepôt too! Make your users life easier when they need to install and upgrade your theme repositories hosted on GitHub. Read about how you can simply register your themes using a « Pull Request ».
I am a block author
Thanks to the Entrepôt you can focus on the JavaScript/CSS parts of your block and rely on it to register and enqueue your scripts, styles and translations without writing a single line of PHP ! It will also take care of your block install and upgrades, just like it does for themes and plugins. Check out this documentation to know more about the registration process.
Spread Entrepôt all over the world!
Use this embed code https://imathi.eu/entrepot/translate/en-us/ within your WordPress sites to inform about Entrepôt and contribute to its growth.